Home > Studio Recording DIY Projects> Yamaha PM1000
SC-1 Mic Preamp NOW ON SALE!!!!
After many months of development, testing, troubleshooting, frustration, problems, and accomplishments... the SC-1 mic preamp kit, PSU-1848 power supply kit and power transformer kits are now available for sale!
Photo of a finished SC-1 mic preamp kit! (Note: XLR jacks and wires shown on picture not included in the kit.)
Features:
- Low-Noise, transformerless, High-Quality Mic Preamp
- All solid-state design, using chipsets from THAT Corp and Burr-Brown
- Soft-start, slow ramp-on +48V phantom power
- Crystal clear Red LED indicator for phantom power
- Electronically balanced input and output stages
- 12-position Grayhill gain selector switch
- Gain range from +6 to +72dB, in 6dB increments
- Input RFI protection
- Input clamping protection
- Output surge protection circuit
- Output RFI protection
... read more...
Download PDF file of Assembly Guide/Kit Instructions
Related products like the PSU-1848 Power Supply Kit, Power Transformer Kit, Power Control Kit are also available for sale. Click here.
Update

: I have a Power Supply PCB and a PSU KIT for the Yamaha PM1000. This is really great if you're trying to rack some PM1000 modules. Click here for more info.

Order PSU-4448 PCB. Only $20.00 per PCB
Plus $3.00 for shipping to US addresses (except HI,PR)

KITS ARE NOW AVAILABLE!

Order PSU-4448 KIT. Only $30.00 per KIT
Plus $5.00 for shipping to US addresses (except HI,PR)

STEP-BY-STEP Build Instructions for PM1000 Power Supply
I just gutted the guts of a Yamaha PM1000 channel strip. I will try to rack them in a standard 19" rack case. I'll be adding a custom power supply, and the usual XLR/TRS input and output jacks, phase, phantom switch, filter cutoff low-pass, hi-pass, etc...
So far, I'm successful in my testing after ripping and soldering everything together and adding a few modifications (i.e. using simple DPDT switches instead of 3Pole selector switches).
The Yamaha PM1000 are usually called Japanese "Neves" because of a similar approach in design. Just like the Neves, this is all discrete transistor and uses an input transformer and output transformer.
The EQ section is especially sweet because there is not a single IC on this preamp. The EQ section uses inductors and capacitors... totally analog manipulation and shaping of your frequency. (circa 1974)
I've tested them on drums and vocals and they really make the sound FAT. The EQ section shapes your sound anywhere from slight barely noticeable to extreme gain/reduction. Bass frequencies are solid. Of course, being an analog EQ, it is not as precise in shaping the sound as IC chip Equalizers. But the curve is smoother I would think.
This is what a PM1000 mixer looks like (circa 1975). Note, I did not use my fully operational 16 channel vintage mixer for this project. I have a few (8) spare PM1000 modules I got from eBay. I also have 2 master strips.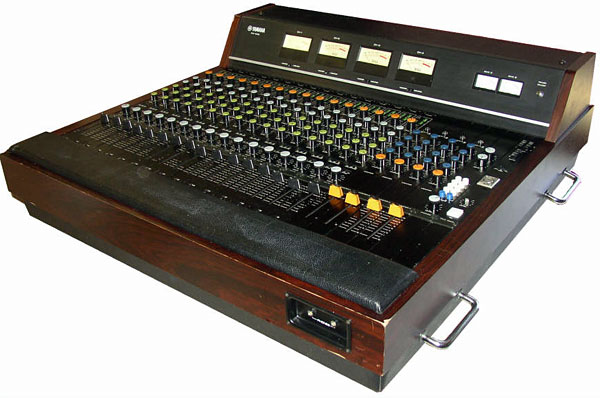 The inside of this unit looks like this. You can see the rows and rows of XLR jacks (Oops, I had a brainfart and typed "transformers" previously) and the big regulated power supply with the big, black power transformer.
This mixer sounds great, old-fashioned vintage fat sound. This is the mixer that started Yamaha on it's journey to making high-quality mixers... from PM1000 to the PM5000 (fully analog, circa 2004).
The problem with this mixer is it's huge and heavy. I mean, really, really heavy. It's got 1" solid wood chassis, lots of metal parts and transformers. They don't make mixers constructed like these anymore. Today, it's all plastic or flimsy aluminum cases.