My DIY Pages
Home > Studio Recording DIY Projects > SC-1 Mic Preamp Kit
SC-1 Mic Preamp NOW ON SALE!!!!
After many months of development, testing, troubleshooting, frustration, problems, and accomplishments... the SC-1 mic preamp kit, PSU-1848 power supply kit and power transformer kits are now available for sale!
Photo of a finished SC-1 mic preamp kit! (Note: XLR jacks and wires shown on picture not included in the kit.)
Features:
- Low-Noise, transformerless, High-Quality Mic Preamp
- All solid-state design, using chipsets from THAT Corp and Burr-Brown
- Soft-start, slow ramp-on +48V phantom power
- Crystal clear Red LED indicator for phantom power
- Electronically balanced input and output stages
- 12-position Grayhill gain selector switch
- Gain range from +6 to +72dB, in 6dB increments
- Input RFI protection
- Input clamping protection
- Output surge protection circuit
- Output RFI protection
... read more...
Listen to Audio/Demo Sound clips!
Download PDF file of Assembly Guide/Kit Instructions
Related products like the PSU-1848 Power Supply Kit, Power Transformer Kit, Power Control Kit are also available for sale. Click here.
NEW!!! SC-1 Mic Preamp Kit
The SC-1 Mic Preamp is a THAT 1510/1512/SSM2017/SSM2019/INA217 based Mic preamp with phantom power, DC servo and Balanced line output driver.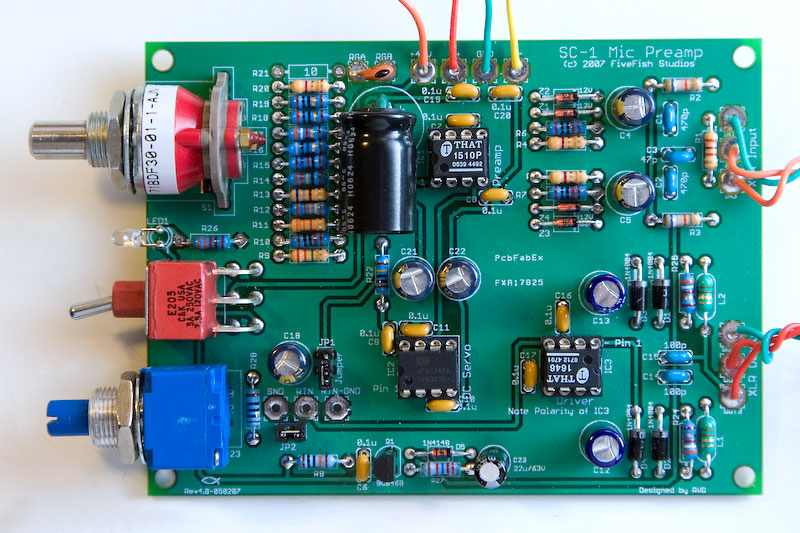 Rev.4 PCB Design for the SC-1 Preamp.
Introduction
The THAT 1510 is a high performance audio preamplifier suitable for use in microphone preamp application. It is pin compatible with the now discontinued, Analog Devices SSM2019 and SSM2017 IC chips, and the Texas Instruments INA217 and INA163 mic preamp chips.
Designed from the ground up in THAT's complementary dielectric isolation process and including laser-trimmed Si-Chrome thin film resistors, the THAT 1510 improve on existing integrated microphone preamps by offering lower noise at low gains, wider bandwidth, higher slew rate, lower distortion, and lower supply current. The parts feature internal ESD overload protection on all critical pins.

In short, the THAT 1510 provide superior performance in a popular format at an affordable price.
Features
* Low Noise:
1 nV/ ÖHz input noise (60dB gain)
34 nV/ ÖHz input noise (0dB gain) (1512)
* Low THD+N (full audio bandwidth):
0.0005% < 40dB gain
0.005% @ 60dB gain
* Low Current: 6 mA
* Wide Bandwidth: 7MHz @ G=100
* High Slew Rate: 19 V/µs
* Wide Output Swing: ±13.3V on ±15V supplies
* Gain adjustable from 0 to >60dB with
one external resistor
* Industry-standard pinouts
Comparison between THAT, SSM and INA mic preamp chips
Design Goals
The goal is to provide a great performing and nice sounding mic preamp that's reasonable or cheaper in cost compared to commercial ready-made, preamp units.
It will be in kit form. This gives the user the chance to build the preamp themselves and use their imagination and creativity in housing this preamp in it's own custom case.
- Simple, Great Performing, Quiet, High-Quality Mic Preamp
- with 48V phantom power
- LED indicator for phantom power
- powered by 18-0-18 Volts supply, with +48VDC for phantom power
- balanced output
- 12-position gain selector switch
- hook-up points for optional Trim potentiometer
- hook-up points for use of a potentiometer for gain control instead of the 12-position gain selector switch
- 0 to 66dB gain in 6dB increments
- input clamping protection
- output surge protection circuit
- output RFI protection
Future Planned Features:
- -10dB pad switch
- phase switch
- Trim potentiometer, PCB mounted
- VU meter