Home > Studio Recording DIY Projects> Signal Isolation/Unbalanced to Balanced Converter Box
This is a DIY Signal Isolation/Unbalanced to Balanced Converter Box. I'm using high-quality MADE IN USA Audio Output transformers to create this SI/UnBalanced-to-Balanced (or Balanced-to-Unbalanced) Converter Box. In addition, a Ground Lift switch is provided.
On this picture, you can see the 4 TRS jacks (2 per channel x 2 = 4), the 2 large audio output transformers, and the ground lift switch in the middle.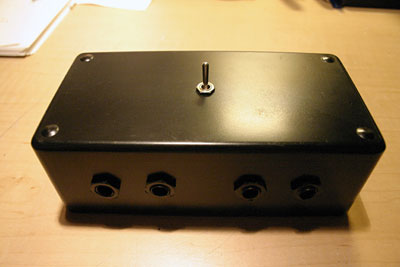 And this is the picture of the finished project. The switch on top is the GND LIFT switch.
The jacks from left to right, are Unbalanced in/out, Balanced in/out (for Channel 1), Unbalanced in/out, Balanced in/out (for Channel 2).
The unit can perform as a Unbalanced to Balanced converter, or as a Balanced to Unbalanced converter.
Applications of this unit:
You can use this to interface between the ALT 3/4 jacks of your mixer to your computer sound card inputs. Here are screenshots of Sonar comparing the difference between using my Converter box and without.
I recorded a "no signal" track... which means, I'm only recording the inherent noise in my system setup. Then I played back the 2 recorded samples.
The first track is with my ISO box sitting in between ALT3-4 and soundcard's input jacks.
The second track is without the ISO box... a direct connection between the mixer's ALT3-4 jacks and the soundcard input jacks.
As you can see from the above screenshot, there is a remarkable difference in my noise floor. From roughly 66dB down to 78dB.
To get a better picture of the before and after audio recording, I imported it into Sound Forge. These are screenshots of Sound Forge's meters.
The above graphis is the noise floor WITHOUT the ISO box.
And the above screenshot is the noise floor using my ISO box. Big difference, huh?
Another application of this unit is in between your keyboard/synth, and mixer inputs. Or use it between your mixer master out and your active monitor input terminals.
This unit will remove hum/noise and lower your noise floor. The result is a quieter signal and the nuances of your instrument can be heard better.
WARM or WARMER?
Also, since you're inserting "iron" in between your signal path, you're also "warming up" the sound. Nothing warms up the signal path more than audio transformers. Plugins and filters and EQs do not warm up your signal. But a transformer physically alters your signal and also provides isolation between 2 pieces of gear. There is no direct physical connection between the input jack and the output jacks. (Note: Because of this inherent characteristic of transformers, phantom power will not pass through this box.)
I'm thinking of adding a "warm/warmer" switch on the box. This switch basically loads the secondary winding of the transformer with additional resistive load, which changes the characteristic of the sound. I've tried experimentally and I liked the results. The resulting signal doesn't hurt my ears so much and did not give me a headache. I used/tried patches on my Korg Triton LE that have high frequency/harmonic content. I can tell with the resistive load that the signal was "easier" on the ears and didn't sound so digitally harsh.
The specs of the audio output transformers are used are as follows: Freq. Response: 20~30,000 Hz, +/- 0.5dB